Supreme Spearmint Toothpowder
Testimonials
Stacey L - Manitoba (7 Orders)
Lisa R - Ontario (29 Orders)
Try Canada's 1st Functional Formula
For +2 years we've worked with a team of world-class food scientists, and discussed with dentists how-to create a Canadian solution to toothpaste waste.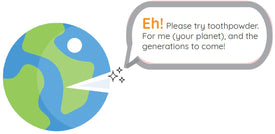 Product Details
100% Plastic-Free
Say goodbye to 'eco-plastic' greenwashing. This product is 100% plastic-free; no 'bio-plastics', no PLAs! Just paper & powder.
Made In Canada
Master food scientists in Canada, have worked to developed this dream product. This means you're not only eliminating plastic, you're also reducing your carbon footprint. Over 50% of this product is proudly Canadian.
Ingredients
Calcium Phosphate, Calcium Carbonate, Silicon Dioxide, Xylitol, Natural Flavours, Sodium Cocoyl Glutamate, Stevia Extract
Eliminate Toothpaste Waste Tonight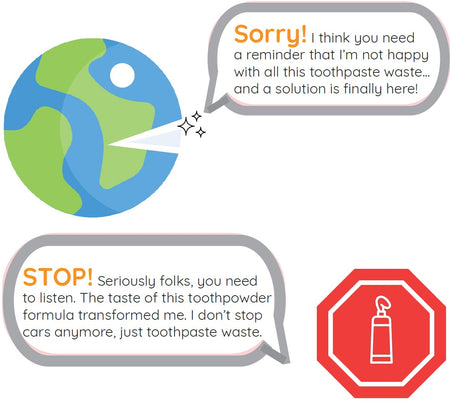 The Canadian Company
This brief video explains what makes us the most radical 'eco-friendly' Canadian company you've ever known.
Product Offer & Details
Transfer to Your Airtight Re-Usable Container: For ease of use, transfer Supreme Spearmint toothpowder to your own airtight reusable container to preserve the flavours. Each member of the household should have their own container just as they should have their own toothbrush.
Use: Moisten your mouth with saliva, then just dip your dry toothbrush, brush your teeth, and enjoy a clean fresh brushing experience.
Safety: Do not swallow. If swallowed by accident, drink milk or water unless nauseous or faint, and seek medical attention as required.
Storage: Store at room temperature. Avoid humidity above 70% or the toothpowder may harden. Unless stored in an airtight container, the flavours will degrade. Neither hardening or loss of flavour reduce the effectiveness of the toothpowder.
Made in Canada: Supreme Spearmint toothpowder is formulated, manufactured, packaged and quality control tested in Canada using imported raw materials.
110 g is a Six+ Month Supply: The recommended serving size for Supreme Spearmint toothpowder is 0.3 g, although typical serving sizes are 0.2 g or even less. At the recommended serving size, our 110 g format is 367 servings – a six-month supply if you brush your teeth twice a day.
Save 4 or more Plastic Toothpaste Tubes:  The recommended serving size for traditional toothpaste is an amount the size of a pea, or about 0.5 ml. However, the typical serving size is a "full sweep" three or four times the size of a pea. That means each 110 g plastic free package of Supreme Spearmint toothpowder eliminates four 125/150 ml and six 90 ml plastic toothpaste tubes.

How Much Toothpaste Should You Use? (health.com)

Comparable Cost: With so many brand, format and sale options, it is difficult to set a standard price for toothpaste, but at typical discount price, the cost of toothpaste is generally around $0.01+ for a recommended serving, and around $0.04 for a typical full sweep serving (see above). Supreme Spearmint toothpowder is around $0.08 for a recommended serving, but around $0.05 for a typical serving.
RRP: In 2024, the RRP will be $34.95.